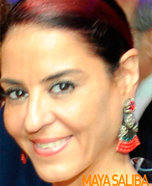 Gz- What tires you in the Tango community?
MS- Everywhere in the world we can see the formation of tango groups that would work against each others. It is a pity to see this happening instead of being a big family and all hands in hands spread the tango culture.
Gz- Where and with whom did you discover the Tango?
MS- I am originally a latin balroom dancer and had to move to Dubai for work. Tango was just starting with Eleanor Brodie who was teaching at her house and spreading hte tango dance in Dubai. As there was no ballroom dancing when I moved I joined Eleanor and started to tango.
Gz- For you where takes place the future of the Tango?
MS- Tango is growing very fast in the world, the dance will spread more and more worldwide. However it should remain a social dance primary.
Gz- A nice and a bad souvenir of Tango?
MS- A nice souvenir is when I am dancing Tango with a wonderful embrace and i am taken in the dance.
A bad souvenir is when partners wants to show off and dance showing you all the moves he knows to impress you even if he doesnt master the move and forgets the music.
Gz- 3 Tangos / 3 orchestras / 3 dancers ?
MS-3 tangos: there are a lot that I like and would be certainly more than 3 tangos
3 orchestras: Donato – Canaro – Di Sarli and more
3 dancers: They all have different styles and like them all for being different
Gz- What is the best way to end a Milonga? 

a)
 With bigfoots
b)
 In search of an « after » to continue if the milonga finished early otherwise
c)
 By going to have breakfast with friends.
d)
 With Someone
e)
 Other (tell us more) :
MS- From all the dances I did, there is nice compared to Tango.
Tango has a magic, above and beyond the others.It is very unique this is why we want to promote this dance in the UAE and created the Dubai Tango Festival to share this passion and dance with everyone